The Mayan apocalyptic divide - where do you fall? [Infographic]
According to Mayan prediction, the end of the world is right around the corner on December 21, 2012. However, 96 percent of Americans are not convinced that our demise is near. In fact, when asked if they will party like there is no tomorrow or hide under their bed on the day of the predicted apocalypse, 82 percent of people said they're ready to party.
On the other hand, if the Mayans predicted the end of the world correctly, 52 percent of Americans would be most excited to never have to pay taxes again and 24 percent would be most excited to never have to count calories again. But have no fear because JELL-O will try to save the world by appeasing the Mayan gods with JELL-O Pudding. For more information check out funpocalypse.org.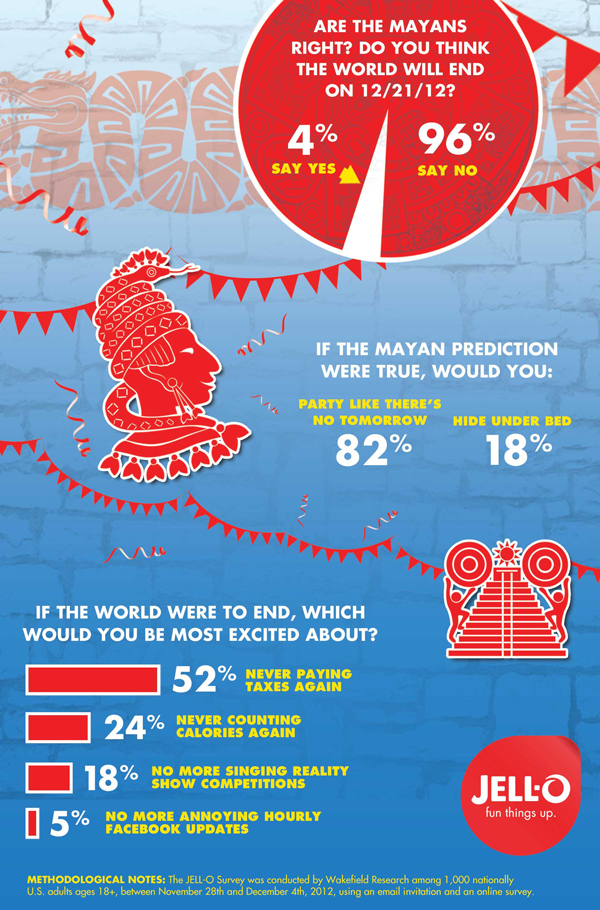 Yellow Pages
Find local listings of businesses and services near you. Get driving directions, reviews and ratings, phone numbers, addresses and more.
Financial Advice from Jim Cramer